Regripping and altering golf clubs with Mitchell Golf equipment all in a day's work for Bryce and Chris Cote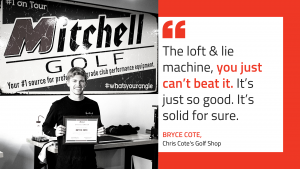 What started as a small golf shop for Chris Cote grew into a booming family business with four locations.
Chris Cote opened Chris Cote's Golf Shop in 2008 in Portland, Connecticut. Now, he and his family own two Toptracer driving ranges (Portland and Southington, CT) and an indoor golf center. His son, Bryce Cote, does all the club work at the Southington location. He noted that the shop has been using Mitchell Golf products for years.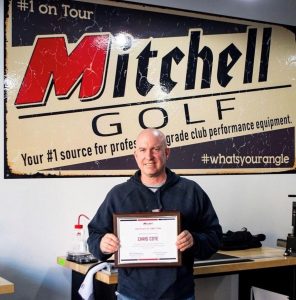 "I'm in the shop right now," he said. "I look around and I've got a lot of stuff. The ruler, the frequency machine, swing weight, shaft puller, bench, grinder. We've got everything from Mitchell here and the stuff is good. It's really quality stuff." As for Chris Cote Golf Shop's customers, the digital loft and lie machine is a must-have.
"They get to see the number right on the dot," Bryce Cote said. "The tour gauge one is decent. I've used it before, but sometimes it's tough for people to read it. With the digital one, you know when it's on, so I think people really like looking at that one. It's a good one to have for sure." During the COVID-19 pandemic as more people picked up golf, Chris Cote's Golf Shop saw business increase.
"Our sales have gone up," Bryce Cote said. "People are pulling their clubs out of the garage and getting them regripped or altered, so it's been a big help for us." Working at the shop for several years, Bryce Cote has seen huge growth in custom-fitting. Fifteen years ago, customers would come into their shop and buy everything off the rack. Now, the industry has evolved where he believes everyone should be custom-fit regardless of their level of play.
"Everyone who walks into the shop, we suggest, 'Hey, you should get fitted,' and it's true," he said. "For a lot of people, it's a big improvement for them."