There has been a lot of great conversations about custom golf club building and fitting between Mitchell Golf and customers over the years. This interest doesn't surprise Patrick Gallagher, Director of Golf Operations at Mitchell Golf. Golfers are more educated about the fitting process, and they want the latest equipment that will help them achieve lower scores. They also realize that the fitting process should not stop when the new set of clubs is ordered — golf equipment needs to be constantly evaluated. Mitchell Golf provides the tools for you to easily and accurately make necessary equipment evaluations, repairs, and alterations.
Working in a clean environment.
When repairing clubs, nobody wants to work in dirty or cramped conditions. And the perfect solution to keep this from happening is the Mitchell Golf Club Repair Vac. It cranks out 1200cf per minute of down-draft to eliminate the shaft dust you create. Its internal blower motor pulls dust and smoke into the filters so that you can maintain a healthier environment while making golf club alterations.

Another great feature of the Repair Vac is that the motors can be anchored to the top of the unit to make shaft cutting, ferrule turning, buffing, and grinding a cleaner and safer process. Not to mention handy. Think of it as a workbench and vac!
A shaft puller is another important tool in your arsenal. A shaft puller applies linear pressure down the shaft towards the hosel of the club. The more linear pressure that can be applied to the clubhead, the less heat needs to be used to break down the epoxy. If you don't break the epoxy bond, the head will not pull off. Done right, and you can use the shaft and the head again. If you are using a shaft puller for graphite shafts, check out our blog: How To Use A Graphite Shaft Puller.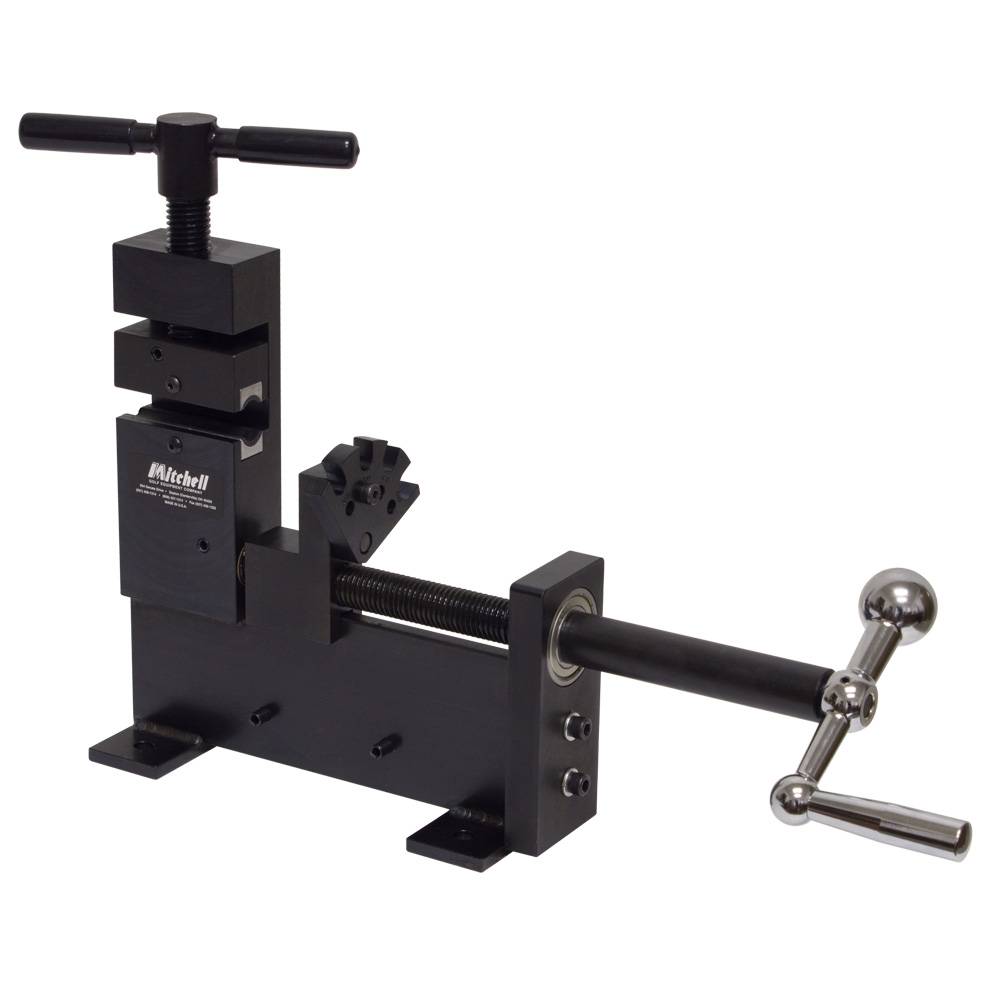 From rulers to grip removers
Mitchell Golf also offers a Club Length Ruler Kit so you can measure the exact length you want for your clubs. The Shaft Cutting Machine with a Ferrule Turning Fixture is also something to consider. This machine helps you can cut the shaft and control it while turning a perfect finish on the ferrule.

And let's not forget about grips. As the only thing between a golfer and his or her clubs, they are one of the first things to get noticed and replaced if necessary. For regripping, there are some golf grip stations that give you a lot of flexibility, whether you want to mount your station to the floor, to a workbench, or even a golf cart! The regripping station includes a Pro Tour Grip Vise that holds the club firmly in place when putting your grip on and it adjusts to different shafts.
Of course, double-sided grip tape is a must and having and the Mitchell Golf tape dispenser is a good idea so the tape doesn't go all over the place. You'll also find other grip accessories like solvent, a grip remover gun, and a grip remover tool that make the job of regripping a lot easier.
If you have any questions about any Mitchell Golf Equipment or club fitting in general, Mitchell Golf's Director of Golf Operations, Patrick Gallagher, will be happy to help.