Grips are one of only three components that make up a golf club, but they are often the most often overlooked. And because they are the only thing between your hands and your clubs, this interaction can significantly affect performance. Depending on the amount you play, you should at least regrip your clubs every year. In some cases, as often as 2-3 times a year.
To help you regrip your clubs, Mitchell Golf offers the Mitchell Golf Grip Station available in both portable and floor mount configurations.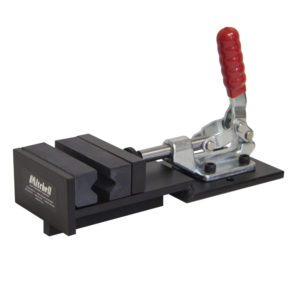 The Grip Station includes a Pro Tour Grip vise that securely and safely clamps the shaft of the clubs. And if you're tired of cutting the paper liner on the grip tape, then the Grip Tape Dispenser will make your life much easier! The dispenser collects the paper liner while the tape is unrolled and is conveniently collected on the spool. And you'll find the Build Up Tape Dispenser conveniently located next to the Double Side Dispenser. Also included is the Drip Pan that collects the excess solvent.
Mounting options
The Mitchell Golf Grip Station has several mounting options. Applying grips does take force, so you will want to make sure your setup can accommodate.

Floor mount stand – This is the most stable option. The machine mounts on the same stand we recommend for the angle machines mounted on a concrete floor. There will be no movement on the machine with the floor mount stand installed in the concrete flooring.
Portable Stand – The portable stand is a great option for those that do not have a concrete floor. There will be some movement of the machine, but the stand does an excellent job. The stand utilizes the same floor mount stand, but it is attached to a portable platform instead of the concrete floor. That mobile platform connects to an additional platform that you stand on when regripping. The stand uses the body weight of the individual to secure the machine. One great thing about this option is that it allows you to take the grip station to different locations at your facility.
Trailer Hitch Stand – The grip station will fit on our brand-new trailer hitch stand. Great way to make a quick adjustment before heading out on the course!
Bench Mount – You can also mount the baseplate to your workbench with this popular option.
Pneumatic Grip Station
We now offer two options for making your grip station pneumatic. The pneumatic option modernizes the grip station and helps save some time! You will need an air compressor, and this is offered with a foot pedal or a hand switch. Additional details will be available soon.
Additional Regripping Supplies
Solvent
Grip Tape
Build-up Tape
Hook Blade Knife
Heat Gun
Find more details about regripping here https://www.mitchellgolf.com/wp-content/uploads/2017/05/Grip_Measuring_Sizing.pdf.