Just like irons, a hybrid's lie will have an effect on club performance.
Hybrid golf clubs were developed in the late 1990s to help golfers hit higher, more accurate shots. There has been a continued trend in the makeup of golf club sets is to replace the long irons with hybrid utility clubs. Hybrid clubs are preferred by many golfers compared to their iron counterparts. They have become popular with a broad spectrum of players, including some top professionals with a third having at least one hybrid in their bag.
Although improved loft, not distance, was the clubs' original goal, the potential distance a club can attain is also an appealing factor. That's because a hybrid's head design allows the center of gravity to be moved lower and a bit further back from the clubface, which helps get more trajectory and ball loft on a golf swing.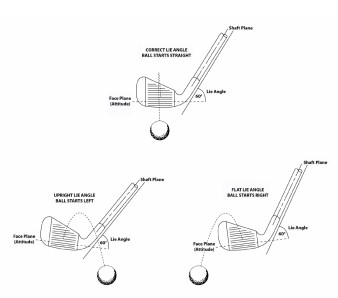 Different golfers require different lie angles.
Some hybrids have rounded soles, while some have very flat soles. With these differences, one lie angle won't fit all golfers. And the wrong lie angle can adversely affect your shot. Hybrid clubs are designed with a low center of gravity to increase the trajectory. So an incorrect lie angle on a hybrid with a higher trajectory will increase the off-line direction more than a lower trajectory shot with a long iron.
In a nutshell, the lie angle of the golf club influences the direction the ball starts when hit. Therefore, it's just as important to have the hybrid angle dynamically fit your swing as it is for fitting your irons. If the lie angle isn't correct, the ball will start with a tilted spin axis and will have a curvature to its flight.
This also affects your swing mechanics, so if the lie angle of your clubs doesn't match your swing, you are already making the game harder than it should be. A custom fitting using the Mitchell Golf Steelclub® Signature Angle Machine will result in better performance, more confidence, and a lot more enjoyment of the game.  Our iron, metal wood, hybrid version uses Dual Precision Gauges for measuring and bending loft/lie angles on all irons, face/lie angles on metal woods and hybrids.
Now that you understand the importance of having the correct lie even with your hybrids, how many should you carry?
Here is a great little tidbit of advice from golfingfocus.com regarding switching irons with hybrids.  They turned to PGA Master Professional Dennis Clark, a one-time PGA Tour player who is also now recognized as one of the leading teachers by major golf publications. He recommends golfers measure their clubhead speed with their driver as the starting point to determine which irons you should replace with hybrids. 

Under 85 MPH driver clubhead speed – look at hybrids for everything below your 7-iron.
85-90 MPH driver speed – look at hybrids for everything below 6-iron.
90-100 MPH driver speed – look at hybrids for everything below 5-iron.
100+ MPH driver speed – pick a set you are most comfortable with but make sure to consider hybrids for the long irons.