I think the average golfer is beginning to realize the importance of getting fit for their clubs, especially when it comes to their drivers.  They want to see how far they can grip it and rip it, and today's monitors are excellent at dialing in optimal launch and spin numbers to optimize ball flight.
Where I don't think this interest extends is to their iron play. I feel that there is a disconnect when it comes to a great fitting for a set of irons, wedges and the most used club in the bag – the putter.  The Mitchell Golf TourGauge Putter Machine will quickly and accurately bend any USGA approved putter.  There are 14 clubs in a bag, each one should be fitted to the player.
I think everyone would agree that golf is a difficult game that can be played in difficult conditions — that is why we love to hate it!  It may be 72 degrees and sunny on the 1st hole and then you make the turn and its 55 degrees and raining, with wind gusting at 25 mph (something that happens too often here in Michigan!).  The golfer must adjust to these conditions since they've changed – they would put on warmer clothes and rain gear and attempt to lower their ball flight.  In the same way, instructors should be paying attention to what changing conditions are affecting their students swing, and how this swing affects the equipment they are using.
You don't have to be the best to do your best. A custom club fitting helps anyone!
I get calls every day from golfers telling me their "specs" and asking if their clubs can be adjusted to those.  The specs they tell me are usually in the number of degrees upright or flat.  My answer to them is "What did you get these clubs measured on and when was the last time you had a proper fitting?"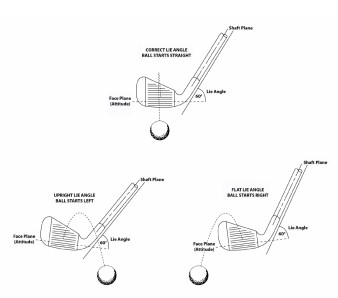 First of all, a good fitting will give golfers of all skill levels the best chance to make contact in the center of the face, even the Haverkamp's!  Hopefully, this will help an average player develop into a better player.
And more importantly, there is no "standard" when it comes to golf clubs. We're very adamant about this! Not only do different manufacturers follow their own set of standards, but these standards are different in their own line of clubs! Yet a common misconception many students have is that they think if they have previously been fitted, that is their DNA forever… i.e., 2 degrees upright and a half inch long.
That may have been the case for the set of clubs they were fit for originally, but a lot of factors need to be accounted for with the new set they are going to put into play:
Different club specifications (Again, these usually change from the same manufacturer)
Swing changes that have occurred since the last fitting
Body Changes (It happens to the best of us)
Golf club designs
So where do you go for a club fitting?
Here's a list of industry professionals who can help you customize your clubs for better performance using Mitchell Golf Equipment.


Some fitters utilize the Mitchell Golf lie board. The lie board leaves a mark on the sole of the club indicating the club's face attitude at impact. Next comes the actual bending of the club for loft and lie.  Some launch monitors are now able to tell you the clubface attitude at impact and where the ball is striking the clubface.
A Mitchell Golf Angle Machine allows you to confidently make accurate adjustments to a set of clubs in under 10 minutes.  The machines can also be customized with colors and logos.  A Mitchell machine is a staple for club-fitters and clubmakers who demand the best because they want to give their customers their very best.  Mitchell Golf is the #1 on professional tours, so make sure you are using the same brand the professionals are!