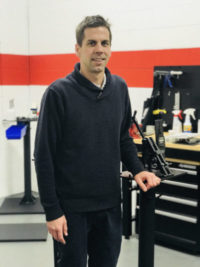 Recently Patrick sat down with Adam Fonseca of Golf Unfiltered to offer a few pointers on how to keep your game and equipment up to spec during this season of quarantine.
Here's a recap:

As most of us are confined to the comforts of our home, the question that comes up is: if someone wants to do some golf maintenance at home, where do you start and what do you need?
From Patrick: An angle machine, a swing weight scale, and a grip station are the three things you should have at home. It's no coincidence that these three products are our top sellers.
Let's start with the loft/lie machine. Why? Because the lie angle is such an important factor during impact with the direction of the ball. You want to have the ability to record your loft and lie measurements and make alternations.

It's also important to recheck your specs on a consistent basis, especially here in Michigan and places where you are hitting off of mats over the winter. With today's soft forgings, it's easy for your club to bend or move, and this happens over time. Especially with putters. They are so soft. With people leaning on them as they wait to putt it is easy for them to get bent.
The only standard is there isn't one
When determining your club's specs, golfers should also understand that there really isn't a standard for club specs across the industry. It's always exciting to get new clubs, but using your old club's specs isn't going to work.
Even with the same manufacturer, these specs are not consistent and aren't going to be the same. Especially when you are talking about the loft of your club.
Patrick also doesn't recommend bending the loft of your club more than 2 degrees. Yes, the club can handle it, but you are going to affect the bounce and makeup of the club.
Tip: When you do make changes, record them for reference. And if you are not finding it to be an intuitive process, go to Mitchell Golf's YouTube channel where you will find a video on how to bend your clubs.
Practice makes perfect.
The learning curve to bend a club is simple. First, try practicing on an older club to get used to it. It's also recommended to bolt your angle machine to a concrete floor to keep the club and machine secure.
If you use the proper bumping /bending technique with a secure base, you'll find the machine is set up to ensure that there's not much room for error. The only thing that is going to be moving when you apply the pressure is the golf club. The club is going to be very secure in the machine.
And once you do a few clubs in the set, you will get the feel of bending and it becomes easier to do.
Of course, mistakes do happen! But don't worry, MG offers a wide range of repair tools, for Do It Yourselfers and for professionals!

As you focus on these factors that affect your swing, a Swingweight Scale is another important tool. It gives you a measure of how the weight of the club feels when you swing it, and it changes the shaft performance of your club.
Another DIY favorite: Regripping Clubs.

For regripping, there are some options and setups for the hobbyist, including our ProTour Grip Vice, which can either be vise mounted or bench mounted. It gives you enough pressure to firmly hold club when putting your grip on and it adjusts to different shafts.
Of course, double-sided grip tape is a must and having and the Mitchell Golf tape dispenser is a good idea so tape doesn't go all over the place.  You'll also find other grip accessories like solvent, a grip remover gun and grip remover tool that make the job of regripping a lot easier.
And last but not least, we all know that mistakes happen! That's why Mitchell Golf offers a wide range of repair tools. A lot of golfers also attend our Mitchell Golf Performance School where we teach enthusiasts and professionals alike how to Repair, Build and Alter Clubs.