When Mitchell Golf moved to Albion, Michigan, and became part of the manufacturing family under Caster Concepts, it was a match made in Heaven. Andrew Dobbins, President of Mitchell Golf, had spent close to a decade as a PGA Professional and he was familiar with the machines. He had a connection to the industry and to what makes Mitchell Golf Machines so unique. We recently sat down with him to get his observations on club making, the golf industry, and other interesting insights.
Q: As a manufacturer of premium golf equipment, how would you describe the role you play in the golf industry in general? What are some of the most important challenges you believe must be addressed?
A: First of all, we want to help make the game of golf more fun — from the weekend golfer to touring professionals. Everyone likes to see the pros play. They pull out a seven iron and go over 200 yards. But that isn't a game that's relatable to the average golfer. The game is hard enough as it is. We want to help educate and provide the tools so every golfer is aware of how a proper fitting will make the game more enjoyable.
Q: Once you get a club fitting, are you set for the year? Do you even need to check ever again?
Club Fitting is something that needs to be done on a continual basis. This is for many reasons. The most obvious one is when you get new clubs. But many other factors come into play. More people are playing year-round. That means golfers are hitting off mats that are sitting on cement and other hard surfaces. This makes your clubs move over time.
As people's bodies change, so do their swings. Or your swing may change in general. This makes club fitting essential for everyone to know their winning angle. And with a Mitchell Golf Angle Machine, you can confidently make accurate adjustments to a set of clubs in under 10 minutes.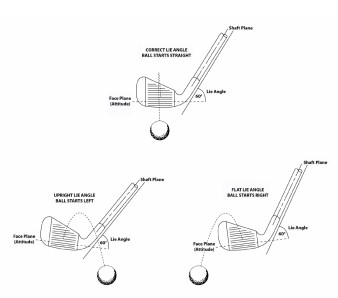 There are many places where you can get your clubs fitted. You can always go to mitchellgolf.com and use our golf locator that lists shops in your area. Or, you can also call us, and we will help you find one. 
Q: How are the changes in clubs affecting the way you build your machines, and what do you do to keep up with the changing technology of clubface design?
A: Custom fitting has been around for a long time.  Although clubs have changed, the technology for the machines hasn't changed that much – an angle machine is what it is, so clubs are not affecting the way our machines are made.

That is the beauty of it. All our machines take the offset into consideration. The challenge is how to add technology to give the user more information. Such as recording the measurements (data collection) and being able to store them for future use. The challenge is to add technology without being overly complicated and high priced.
Q: What goes into building a Mitchell Golf Machine? Has COVID-19 affected your manufacturing process?
People are surprised when they get the machines how heavy they are. They are very solid. We use thicker material that won't degrade or fatigue over time. Our machines will last forever. You buy a Mitchell golf machine for a lifetime.
Our overall business (Caster Concepts) centers on critical manufacturing, so we always keep an inventory of parts that allows us to react quickly. We are fortunate in that respect. If we had to go out and buy bearings, for example, it would cost more. We have the inventory. We have the in-house welding as well as all types of machining and tools that are needed to produce the precision parts that go into our machines.
Q: Any other thoughts that you would like to share?
2020 was going to be an incredible year for golf. COVID really threw a wrench in it. Now we are playing catch up for the rest of the year. It's a different economic environment, and there is a level of safety that everyone is taking. For golf instructors, are they going to be able to touch someone's hands to teach a grip?

Club fitting is also going to operate under a whole new set of protocols. Certainly, for our instructors in the performance studio, they are going to be wearing masks and following the six-foot rule. Everyone will have their own workbenches. We will also limit the number of students in each class for distancing. But I am feeling comfortable and good about having classes resume. I'm excited to give some life back into the sport. Not enough of this stuff is going on right now.
Questions? We love taking your calls! You can contact us at 800-437-1314 or at  Info@MitchellGolf.com